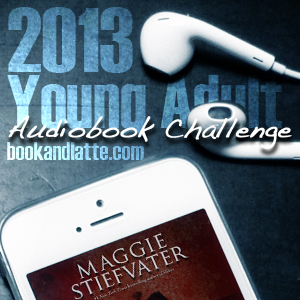 Hosted by A Book and a Latte
The Goal:
Choose a level below that will challenge you, and listen to and review the amount of audiobooks required for that level. To complete this challenge, you must listen and review a minimum of 12 audiobooks (released any year) of the YA (or MG) genre in 2012.
Easy Listening Listen to and review 12 audiobooks.
Rock'n Out Listen to and review 24 audiobooks.
Head Bang'n Listen to 36+ audiobooks, and review at least 24 of them.
Mosh PitListen to 48+ audiobooks, and review at least 36 of them.
I am shooting for Rock'n Out Level. That's 24 audiobooks.
1.  Undeadly by Michele Vail (2012)
2. Sprout by Dale Peck (2009)